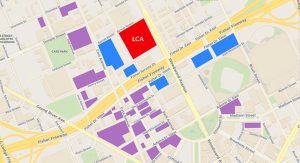 A project like the state-of-the-art Little Caesars Arena (LCA) doesn't come around very often. When it does, it requires the involvement of numerous trades and a tremendous workforce. And, in this case, it wasn't just about constructing an arena from the ground up, but also developing the surrounding area called District Detroit.
Williams Electrical and Telecommunications Co. was a key electrical contractor on the project, primarily handling traffic and safety control systems for numerous Olympia Development of Michigan parking lots around the arena. These included:
District Detroit Lots North
Red Wings Lots 1, 4, 5, and 6
Red Wings Lots J, L, M, N, and Y
Red Wings Tiger Garage
Red Wings Fox Garage
The arena is host to the NHL Detroit Red Wings, the NBA Detroit Pistons, NCAA basketball, concerts, and other events. The arena measures 360 feet from east to west and 460 feet from north to south, and contains 755,000 total square feet of usable area.
Nearly $700 million in contracts went to Michigan-based businesses, with more than $475 million, totaling 61%, of that to Detroit-based businesses. LCA created 12,000 jobs, utilized up to 1,200 construction people on-site each day, including 2 shifts, 7 days a week in the final months of construction.
The project was a tremendous undertaking for all tradespeople including Williams and has already garnered awards and recognition across the country and around the world. Williams Electrical and Telecommunications Co. is proud to have been part of this extraordinary project that had its ribbon-cutting ceremony on September 5, 2017.